Residential Roofing Company: The Ultimate Guide
As a homeowner, the roof of your home is an undeniably important part of its overall condition and beauty. But when it comes to residential roofing, many people don't know where to start or how best to care for their roofs. To make sure that you get lasting quality materials and proper maintenance for your home's rooftop, this guide will explain all you need to know about finding trustworthy contractors, buying high-quality products, setting up long-term affordable warranties, and getting great value from regular inspections and replacements. With the help of Residential Roofing Company, you'll have confidence knowing your home's roof is in good hands!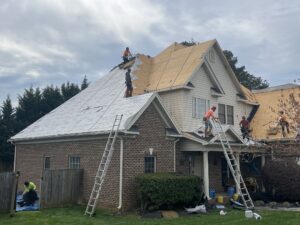 Why is Roof Maintenance Important for Protecting Your Home's Value
As a homeowner, you want to ensure that your investment maintains its value over time. One key aspect of protecting your home's value is to stay on top of roof maintenance. Your roof is the first line of defense against the elements and it can take a serious beating throughout the year. If left unchecked, issues with the roof can quickly escalate to become more serious and expensive to fix. Regular inspection and maintenance of your roof can catch problems early and prevent them from becoming bigger issues down the line. Not only will this save you money in the long run, but it will also help maintain your home's value, ensuring that it remains a reliable and safe shelter for years to come.
Signs That It's Time to Replace Your Existing Roof
Your roof is one of the most important components of your home's structure, providing shelter and protection against the elements. However, it may not last forever, and it's important to know when it's time to replace it. There are several signs to look out for that signal a worn-out or damaged roof, including leaks, cracks, missing or damaged shingles, and an aging roof that is over 20 years old. Ignoring these symptoms can lead to costly repairs or even more significant damage to your home. As a homeowner, it's important to be aware of these warning signs of roof leaks and to take action before it's too late. Consider consulting with a professional roofer to assess the condition of your roof and provide recommendations for replacement if necessary.
What to Look for When Hiring a Residential Roofing Company
When it comes to hiring a residential roofing company, there are a few key things to keep in mind. First and foremost, always look for a company with a good reputation. Check online reviews and ask for references from past clients to ensure that you are working with a company that has a proven track record of success. Additionally, make sure that the company is licensed and insured, as this will protect you in case of any accidents or damages on the job. Finally, be sure to get a detailed estimate of the work to be done before agreeing to anything, and don't be afraid to ask questions or negotiate if you feel that the price is too high. By taking these steps, you can ensure that you are hiring a quality roofing company that will get the job done right.
Tips for Maximizing the Life Span of Your Home's Roof
Your home's roof is perhaps one of the most critical components of the entire structure. It serves as the primary barrier between you and the outside world, protecting you and your loved ones from the elements. Unfortunately, most homeowners don't pay much attention to their roof until it starts leaking. Proper maintenance and upkeep can significantly extend your roof's lifespan, saving you a lot of money in the long run. Regular inspections, cleaning gutters, replacing damaged shingles, and addressing any potential issues early on are all vital steps to take to maximize your roof's longevity. A professional roofing contractor can provide you with all the necessary advice and services to help you keep your roof in top condition for many years to come.
Taking care of your roof should be a priority for any homeowner. Regular inspections, proper maintenance, and prompt repair work can ensure that you maintain the value of your home, as well as protect it. By hiring a reliable residential roofing company to perform scheduled inspections and repairs, you can maximize the life span of your roof while also feeling confident that they are doing quality work. With the right company and adequate care, you can rest easy knowing that your home's roof is strong and secure.

806 Green Valley Rd Suite 200 PMB 1009, Greensboro, NC 27408
(336) 365-9484