Slate Roof Repair Guide: How to Repair a Slate Roof
Slate roof repair can be one of the most daunting tasks a homeowner will ever face. It requires special skills, tools, and know-how in order to successfully complete it. Every step of the process will be covered including how to inspect for damage and determine what type of repairs need to be done; selecting proper materials; getting everything ready with safety measures in place; preparing the installation area including removal & disposal of damaged slates; cutting replacement slates; applying sealant or nails where needed & finally restoring your slate roof back into working condition!
Preparing for a Slate Roof Repair
When it comes to repairing a slate roof, preparation is key. As a professional in roofing industry, I cannot stress enough the importance of proper planning before starting any repair work. This means inspecting the roof thoroughly to identify any damage or weak spots that may need attention, gathering all necessary tools and materials, and taking safety precautions to protect yourself and anyone else working on the job. Additionally, it's crucial to have a clear understanding of the repair process and techniques required to ensure a successful outcome. By investing time and effort into preparation, you can save yourself time and money in the long run and ensure a sturdy, long-lasting slate roof repair.
Types of Repairs that Can be Performed on a Slate Roof
Slate roofs are known for their durability and aesthetic appeal, but as with any roofing system, repairs may become necessary over time. Fortunately, there are a variety of repairs that can be performed on slate roofs to ensure their longevity and functionality. Some common repairs include replacing individual slate tiles that have been damaged or broken, repairing leaks or gaps in the roof, and reinforcing the structure of the roof itself. Additionally, regular maintenance such as cleaning and removing debris can help to prevent damage in the first place. If you suspect that your slate roof may be in need of repair, don't hesitate to consult with a professional roofing contractor.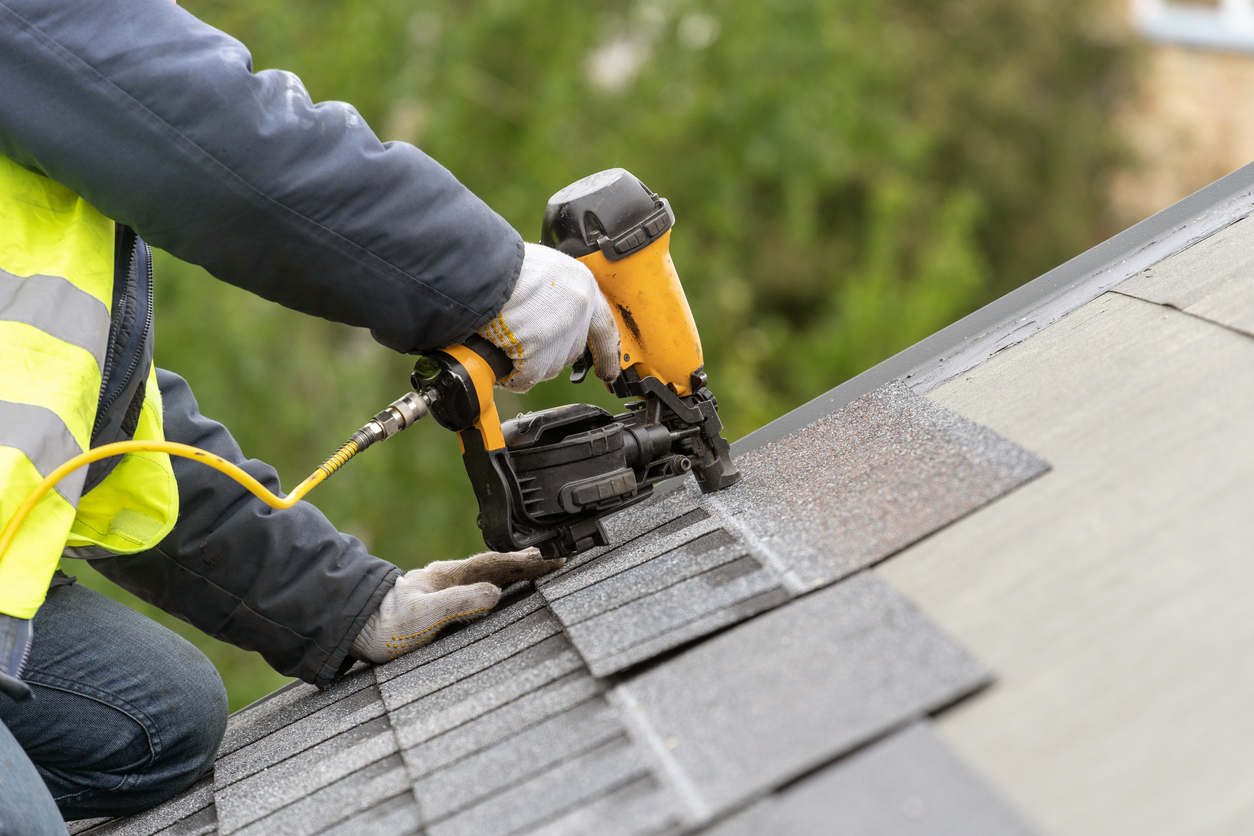 Tools Needed to Successfully Repair a Slate Roof
Maintaining a slate roof requires a certain level of expertise and the right tools. In order to successfully repair a slate roof, there are a few key tools that every professional should have in their arsenal. A slate ripper is essential for removing old or damaged slates without causing additional damage to surrounding tiles. A slate hammer with a chisel end is also necessary for cutting and shaping the slates to fit the roof's unique contours. Additionally, a slate cutter and nail punch tool are required for creating clean cuts and securing the tiles in place.
Step-by-Step Guide to Repairing a Slate Roof
Slate roof maintenance can be a daunting task, but with the right step-by-step guide, repairing it can be made easier. Start by identifying the damaged slate tiles and make a list of what you need. Next, remove the damaged slate with care so as not to damage the surrounding tiles. Using a slate ripper or a hacksaw blade, detach the nails that hold the slate in place. Once the slate is removed, replace it with a new one and attach it with two nails. Cut off any excess nails and use a slate hammer to ensure that the slate is secured in place. Lastly, inspect the entire roof to make sure there are no other damaged portions or areas that need attention.
Maintenance and Prevention Tips to Keep Your Slate Roof in Top Condition
Slate roofs are one of the most durable roofing options available, but they still require upkeep to ensure their longevity and appearance. Regular maintenance and prevention tips can help keep your slate roof in top condition for years to come. One simple step is to regularly clear debris such as leaves and branches from the roof's surface, as well as ensure proper ventilation to avoid moisture buildup. Another important maintenance task is checking for any damaged or missing slate tiles and promptly replacing them. Additionally, periodic inspections by a professional roofing contractor can identify potential issues before they become major problems.
Slate roof repair requires a great deal of skill, knowledge, and patience. Whether you're taking on the project yourself or hiring a professional contractor to handle it for you, it's important to familiarize yourself with all of the steps involved. And while preventive maintenance will always be your best bet to keep your slate roof in top condition, knowing how to repair it gives homeowners peace of mind. In conclusion, having sound knowledge regarding slate roof repairs is essential for any property owner wanting the best care for their home!
806 Green Valley Rd Suite 200 PMB 1009, Greensboro, NC 27408
(336) 365-9484