The Ultimate Guide to Buying a Residential Metal Roof
Installing a metal roof on your home is an important decision that will affect your property for years to come. A high-quality residential metal roof can provide superior protection and style, making it a wise investment both now and in the future. With so many options available, however, researching what's available and choosing the right product for you may seem daunting. This comprehensive guide provides everything you need to know about purchasing a residential metal roof – from understanding the material variations to exploring installation options – so that you can make the best choice for your property.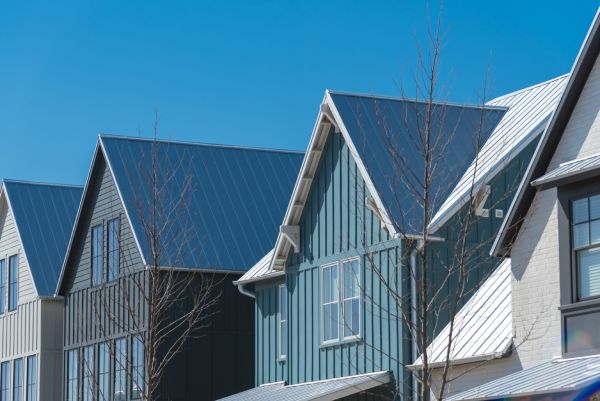 An Overview of Metal Roofs and Their Benefits
When searching for a durable and long-lasting roofing option, metal roofs are an excellent choice. With their ability to withstand harsh weather conditions such as heavy rain, hail, and strong winds, metal roofs are quickly gaining popularity in the roofing industry. In addition to their impressive durability, metal roofs come in a wide range of colors and styles to fit any home's aesthetic seamlessly. Another significant benefit of metal roofs is their energy efficiency, as they reflect the sun's rays and minimize heat absorption. Overall, metal roofs provide a cost-effective and attractive roofing option for homeowners seeking durability and sustainability.
Considerations When Choosing a Residential Metal Roof
When selecting a residential metal roof, there are a number of factors that should be taken into careful consideration. While the strength and durability of metal as a roofing material are undeniable, it's important to take into account factors such as the aesthetic appeal of various styles and colors, the structural stability of the home, and the cost and long-term value of the investment. With so many options available on the market today, it's essential to work closely with a professional roofing contractor who can help guide you through the decision-making process and ensure that you invest in a metal roof that meets all of your needs while also staying within your budget.
Types of Residential Metal Roofs Available
There are several types of residential metal roofs available, each with its own unique features and benefits. One type is standing seam metal roofing, which features interlocking panels that stand vertically on the roof. Another option is corrugated metal roofing, which is known for its wavy shape and affordability. Other types include metal shingles, metal tiles, and metal slate, all of which mimic the appearance of traditional roofing materials while providing the advantages of metal. When choosing a metal roof for your home, it's important to consider factors such as your budget, climate, and personal preferences to ensure that you select the best type for your needs.
Installation Process for a Residential Metal Roof
Residential metal roof installation may seem like a daunting task, but with the right preparation and guidance, it can be a smooth process. First, determine the necessary tools and equipment needed for the job, including safety gear such as gloves and harnesses. Next, ensure proper ventilation and insulation are installed before laying down the metal panels. It's recommended to use a professional installer due to the complexity of the job and the potential for mistakes. However, if you choose to go at it alone, following the manufacturer's instructions and taking necessary safety precautions will help ensure a successful installation.
Maintenance Tips for a Residential Metal Roof
Maintaining residential metal roofs is essential to its longevity and performance. With regular inspections and proper care, your residential metal roof can last for decades. One of the most important maintenance tips is to keep the roof clean and clear of debris, such as leaves and branches. This will prevent clogs and backups in the drainage system. Additionally, it's important to check for any signs of damage, such as rust or corrosion, and address them promptly to prevent further deterioration. Considering these tips and working with a professional roofing contractor for routine maintenance and repairs can help ensure the continued success of your metal roof.
With the proper maintenance and care, residential metal roofs can be a durable, attractive, and sustainable option to consider when selecting the best roof for your home. Metal roofs are a great choice for homeowners looking to increase their curb appeal while also protecting their structures from the elements. A reputable contractor can help guide you through the process if needed and provide valuable advice regarding which type of roof would work best depending on your particular circumstances. Regardless of which path you take, replacing or installing a residential metal roof is a worthwhile investment that can bring long-term value to your home.

806 Green Valley Rd Suite 200 PMB 1009, Greensboro, NC 27408
(336) 365-9484