How to Choose the Right Residential Metal Roofing
When it comes to choosing the right roofing material for your home, there are a few options available in the market – but metal roofing presents one of the most reliable and cost-effective ways to protect your home from adverse weather conditions. With so many different types of metal roofing materials available, as well as additional considerations such as installation costs, color finishes, warranties, and more; how do you ensure that you're making an informed decision about the type of residential metal roof for your property? Read on to learn more about what you should consider before making a final investment in residential metal roofing.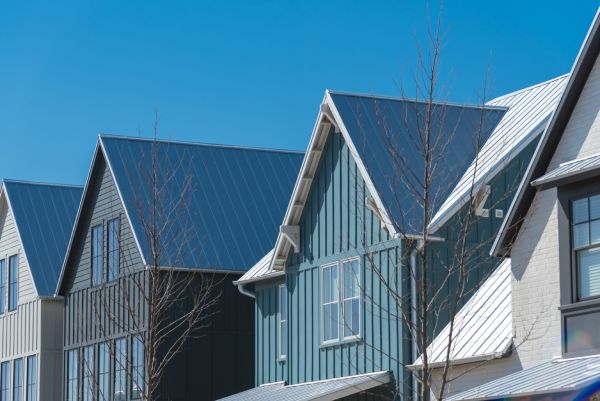 Understand the Different Types of Residential Metal Roofing
Residential metal roofing has become increasingly popular among homeowners due to its durability and energy efficiency. Metal roofing can withstand harsh weather conditions and is much more environmentally friendly than traditional roofing materials, but not all metal roofs are created equal. It's important to understand the different types of residential metal roofing, such as steel, aluminum, and copper, and to consider factors like cost, maintenance, and style before making a decision. With the right type of residential metal roofing, homeowners can enjoy a long-lasting, attractive, and energy-efficient roof for many years to come.
Consider Your Climate and Weather Conditions
As we analyze the effects of climate change and unpredictable weather patterns, it is crucial for every individual to consider their specific climate and weather conditions. Taking into account the geographical location, seasons, and potential natural disasters can enable us to make informed decisions about our daily routines, travel plans, and emergency measures. For instance, if you reside in an area prone to heavy rainfall, it is advisable to invest in flood insurance and take necessary measures to prevent water damage to your property. Similarly, if you live in an area susceptible to wildfires, preparing an emergency evacuation plan can be a life-saving decision.
Evaluate Your Budget
Creating and sticking to a budget is essential for financial stability. Evaluating your budget regularly allows you to identify areas where you are overspending and adjust your spending accordingly. As a professional, it is important to know where your money is going and ensure that you are allocating your funds appropriately. Reviewing your budget can also help you identify potential areas for savings and enable you to set financial goals for the future. Remember, taking a proactive approach to your finances now can lead to significant benefits in the long run.
Look at Durability – A Metal Roof Could Last Up to 70 Years!
When it comes to choosing the right roofing material for your home or business, durability is a top priority for most. And when it comes to durability, few materials can compare to metal roofing. This type of roofing can last for up to 70 years or more, making it one of the most long-lasting options available. In addition to its longevity, metal roofing is also resistant to fire, insects, and rot, making it a smart investment for any property owner looking for a reliable and low-maintenance roofing solution.
Take into Account Maintenance Requirements
When considering a new purchase, it's important to take into account the maintenance requirements to ensure the product's longevity and performance. Whether it's a car, home appliance, or even a garden tool, regular upkeep is key to avoiding costly repairs and replacements down the line. By prioritizing maintenance and following manufacturer guidelines, you can extend the life of your item and save yourself time and money in the long run. So before making your next purchase, consider not just the initial cost, but also the upkeep required to keep it in top shape.
Consider Energy Efficiency
With environmental consciousness on the rise, it is more important than ever to consider energy efficiency. By making small changes such as upgrading to energy-efficient light bulbs or turning off electronics when not in use, individuals and businesses can significantly reduce their carbon footprint and save on electricity bills. Furthermore, investing in energy-efficient appliances or building materials can lead to long-term savings and a positive impact on the environment.
When it comes to professional residential metal roofing, you really get more bang for your buck. It will last much longer than asphalt shingles and can also provide added energy efficiency benefits as well. While metal roofing may seem expensive upfront, in the long term it could save you money. With up to 70 years of lifespan, the durability of residential metal roofing cannot be ignored either. Consider all of these points before making your decision and reap the rewards this type of roofing can bring!


806 Green Valley Rd Suite 200 PMB 1009, Greensboro, NC 27408
(336) 365-9484