Metal Roofs: For When You Need Reliability and Sustainability
ResCo Roofing brings a new approach to metal roofing for residential customers and makes it easy to select the suitable material for your residential roofing project. We now offer a variety of different materials for our customers to choose from based on their budget and style preferences.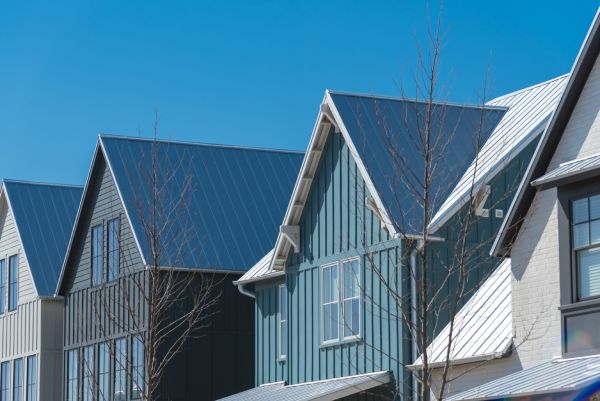 At ResCo Roofing, we offer metal roofing solutions for your residential roofing needs. Our metal roofing materials are designed to stand up to the elements and provide style to your home. Choose from aluminum, copper, and steel to find the perfect option for your home.
We only use the highest quality materials for our metal roofing solutions. Our metal roofing materials are designed to be durable and weatherproof to ensure your home is protected. With our metal roofing materials, you will get the quality and protection you need for your home.
ResCo Offers Metal Roofs with Affordability & Durability
Metal roofing is an excellent choice for homeowners looking for a cost-effective, sustainable, long-lasting, and energy-efficient roof. Metal roofing can last a lifetime, is fire resistant and nearly weatherproof, and helps keep your energy costs low. Furthermore, metal roofing is extremely durable and is available in many colors and styles to suit your home's look and feel.
The two common styles of metal roofs are Standing Seam and Corrugated. Standing Seam is a popular choice because it has excellent water-shedding capabilities and offers long life spans, up to 50 years or more with proper maintenance. Corrugated metal roofs are an economical option that provides good protection against the elements but may not last as long as Standing Seam. Both systems can be powder coated for extra protection.
Metal roofing is an attractive option that will boost your home's curb appeal and resale value. The sleek, modern look and long-lasting performance of metal roofing will make your home stand out from the rest and attract potential buyers.
Don't wait any longer to protect your home. Contact ResCo Roofing today to learn more about how metal roofing can benefit your home. We are here to answer all your questions and provide you with a free quote for your residential roofing needs.
Contact Us; Don't Wait Any Longer!
Whichever roof style is right for your home, the team at ResCo will ensure you get the roof you want! Call us to learn more about the many options available regarding residential metal roofing.​